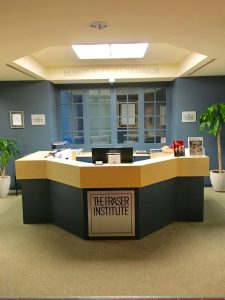 I am working in the Centre for Natural Resource Studies at the Fraser Institute and my first week has been spent helping get the next mining survey ready. The Institute releases an annual survey of mining companies looking at the impact of regulation, the approvals process and government to paint an overall picture of the best places for mining development and investment.
Celebrations for the 150th Canada day begin this weekend. The day celebrates the unification of the three separate colonies into Canada, and as July 1 falls on a Saturday, the office held their celebrations early. Our office held an event on Tuesday which involved Canadian trivia, ice cream sundaes and my favourite – pin the antlers on the moose!
Each Wednesday gives interns the chance to discuss a topical issue for the Institute – this week we discussed the proposed increase in the minimum wage in Canada to $15 per hour. In preparation, interns read articles written by Fraser, as well as ones directly critiquing past work done by the Institute. It was a fascinating discussion of the minimum wage, especially because Australia already has a high minimum wage in comparison to Canada's current rate.
It has not taken long to settle in, and everyone at Fraser is very welcoming and eager for me to enjoy my time in their city. I am really looking forward to what the coming weeks will bring.