Delve into the world of libertarian ideas
Mannkal sponsors students to attend domestic and international conferences where they can engage in a wide range of topics, spanning economics, public policy, entrepreneurship and more. At the conferences, students will hear from distinguished academics, politicians and think tank leaders.
During the session breaks, students are encouraged to network in a relaxed environment with their peers and enjoy the experience.
Attending a conference is the perfect way to prepare you for your study tour application. Students are generally eligible for one conference prior to going on a study tour, however additional conference opportunities may be offered throughout the year to outstanding scholarship performers.
Public Choice Symposium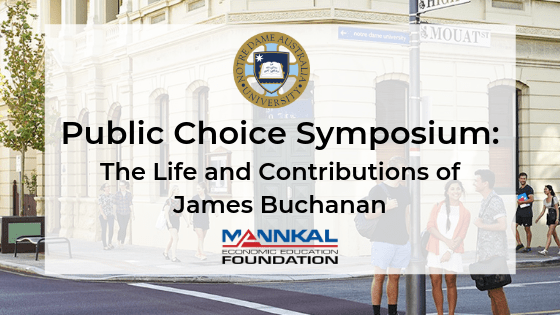 Tuesday, 16th July 2019 in Fremantle
Applications close Sunday, 7th July – apply early to be eligible for further Mannkal opportunities!
About the Conference:
The UNDA Public Choice Theory Symposium is an annual one-day gathering devoted to exploring topics in the sub-discipline of economics known as Public Choice Theory.
This entails modelling agents who participate in the political domain as largely self-interested.  Some of the topics considered include rent seeking, regulatory capture, pressure-group activity, constitutional design, voting paradoxes and the economics of bureaucracies.
The symposium is designed for undergraduate, honours and postgraduate students, but all parties who are interested in contemplating 'politics without the romance' are welcome.
It is non-partisan in nature, and a critical and contrary tone is encouraged, if not celebrated.
Speakers include Mike Munger, Geoffrey Brannan, William Coleman, Michael McLure and Jonathan Pincus.
Click here to read more about the speakers.
Click here to see the program.
All successful applicants will receive complimentary registration to the symposium.
Applications are accepted and assessed on continual, rolling basis up until the deadline. Candidates who submit their application early have a higher likelihood of receiving a conference scholarship and will be looked upon favourably for future Mannkal opportunities.
Samuel Griffith Society Conference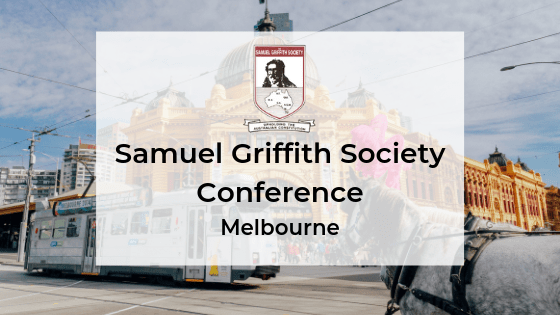 9 – 11 August, 2019 in Melbourne, Australia
Special-extension applications closed Sunday 16th June
About the Conference:
The Samuel Griffith Society exists to promote understanding of Australia's Constitution. It holds annual conferences and publishes its own annual journal.
Key areas:
to promote discussion of constitutional matters through the articulation of a clear position in support of decentralisation of power through the renewal of our federal structure;
to defend the great virtues of the present Constitution against those who would undermine it in order to supplant it with a unitary state;
to restore the authority of Parliament and defend the independence of the judiciary;
to foster and support reform of Australia's constitutional system to these ends.
More details, including speakers, will be announced soon.
Applications closed on Sunday, 16th June.
Please note: attendance and participation at our events and seminars is an essential prerequisite for a successful application
Apply for one of our current conference opportunities
Attend a 30-minute introductory interview at our office
Attend our seminars to learn professional skills and libertarian philosophy.
You can view our upcoming seminars on our Facebook page
Attend a domestic or international conference
Apply to participate in one of our international study tours
We provide further opportunities and professional development throughout our Alumni's careers
PREVIOUS CONFERENCE OPPORTUNITIES
Mannkal is proud to have sponsored students for the following conferences