Over the past 12 weeks, I have interned at the Institute of Economic Affairs (IEA) in Westminster, London, and had the privilege to work with staff and interns in all departments. I believe what empowers the IEA is a diverse group of experts, academics, and professionals from a range of nationalities, ages, and perspectives. I found that the positive work culture at the IEA promoted cooperation, collaboration, and the expression of different ideas. Debates and discussions are highly encouraged inside and outside work hours. I was fortunate to be within internship groups of some of the most interesting, driven, and inspirational people I have ever met. I believe that think tanks such as the IEA are a magnet for aspirational and intellectual individuals that want to make a positive impact on the world.
In mid-December, I assisted IEA Technology and Projects Manager, Jamie Legg in editing his Bitcoin – Stateless Money? video which provides an excellent explanation of the merits of digital currency and how it relates to the IEA-published Denationalisation of Money by F.A. Hayek in 1976. I enjoyed working with the Head of Public Policy, Matthew Lesh, on a range of productions from the red tape holding back lab-cultivated meat, to the significant influence of China in the Telecom industry. I had the pleasure to work with the Head of Cultural Affairs, Marc Glendening on various recorded interviews with guests and personally discuss topics such as the culture wars with Marc and other interns.
An experience I will never forget was my trip to Buckingham for the Vinson Centre and IEA 6th form conference with the IEA Outreach team! It was a joy to travel with Head of Outreach Brittany Davis and Outreach Coordinator Clara Morrissey to the University of Buckingham, where we met with bright students and representatives of this outstanding university. Dr. Juan Castaneda of the University of Buckingham kicked off the conference with a riveting talk on the relationship between money and prices. This was followed by Director of the Initiative for African Trade and Prosperity (IATP) Alexander C. R. Hammond with a controversial yet compelling discussion on the follies of foreign aid. To finish the day off, IEA Professor Len Shackleton delivered a powerful explanation on unions and strikes, a very hot topic in London due to the ongoing rail and tube strikes. I had first-hand experience with the effects of these strikes as I was often delayed and sometimes completely prevented from traveling on the train lines. As a part of the Outreach team, we distributed books on economics and democracy, consulted with Academic staff, and assisted with the management of the conference. This experience made me appreciate the important work that Outreach performs, and I find it rewarding to help in providing educational opportunities for students and future leaders of the world.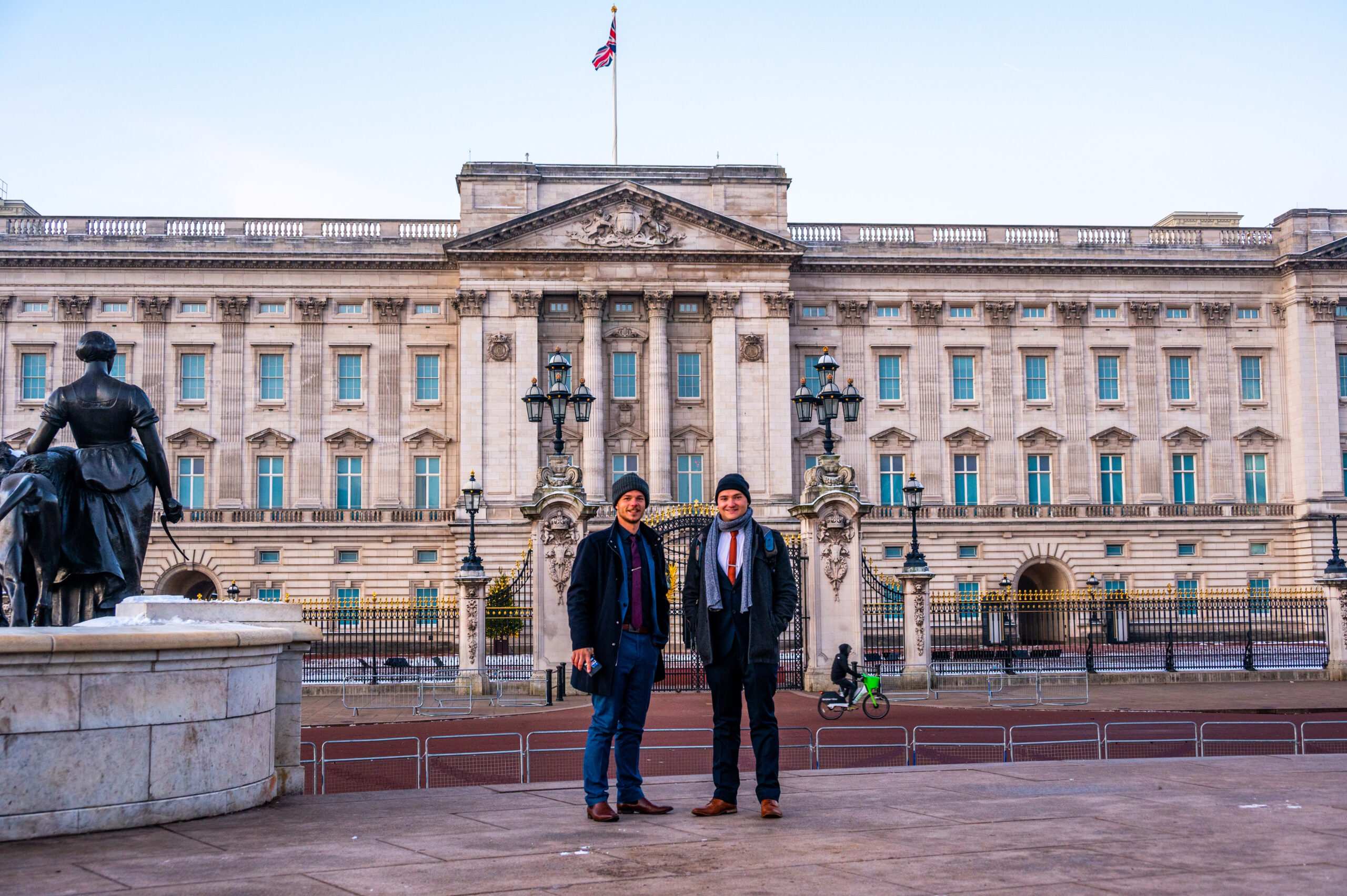 Me and Sam at Buckingham Palace.
I made the most out of my international internship experience by traveling to different countries in Europe on the weekends. I flew to Dublin, Ireland on a Friday night after work, nearly missing my flight due to delays caused by strikes on the tube. After arriving near midnight, I met three rowdy but good-natured Dubliners at a pub named the Palace Bar. With strong Dubliner Irish accents, they warmly welcomed me. When I revealed that my father and grandfather were from Belfast, Ireland, they were friendlier and even more welcoming and with great pride, they sang Irish songs with me all night. The next day I spent seeing the best parts of Dublin, including the Book of Kells at Trinity College, EPIC the Irish Immigration Museum, St Patrick's Cathedral, and the Guinness Storehouse, a 7-story brewery museum.
Looking back over the course of my internship with the IEA, I can see I have developed significantly, particularly in communications, operations, and management. With the guidance of Operations Manager Zachary Vicario, I sharpened these skills by delegating tasks to interns, writing documentation on tech and media processes, and providing services as a media and tech consultant. My network of connections has expanded dramatically since beginning my internship at the IEA and I have gained wonderful friends from all over Europe, Africa, Asia, and the Americas. Going forward, I will revere these strong connections I have made, stay in touch, and always be open to new connections and opportunities.