The last two months of my internship at the New Zealand Taxpayers' Union (NZTU), January and February 2023, saw momentous occasions for New Zealand: following Jacinda Ardern's resignation, Chris Hipkins became the new leader of the Labour Party and prime minister, and Ed Sheeran held the first Oceania concert of his +–=÷× Tour at Sky Stadium in Wellington. Throughout my internship, my job was to help the NZTU achieve their goal of "Lower Taxes, Less Waste, More Accountability" through research into taxation and government spending. Most of this involved updating past reports and investigating leads on wasteful expenditure. A valuable challenge I overcame in my research projects was learning how to work with limited data, how to creatively solve methodological problems that materialize as a result, and how to make appropriate simplifying assumptions that produce the best estimates.
Actively participating in the NZTU's work helped me appreciate the importance of such organizations to the flourishing of liberal democracies. They play a role similar to that traditionally given to journalists and the media: they are watchdogs, checks on state power, who make government more accountable to the people by increasing transparency around how they spend tax dollars. Whether because of corruption and greed, red tape, or incompetence, politicians will spend money wastefully. But when they do, most people do not have the time to conduct lengthy investigations into government expenditure, write up reports about it, and disseminate their findings to the wider public. However, through the division of this labour to a select number of diligent groups, society can achieve this.
What I enjoyed most about my internship in New Zealand was the many wonderful people I met. In my last two months there, the most significant experiences I had included attending a farewell luncheon, an engagement party, and a Burns Night (a supper held yearly on January 25 in celebration of the Scottish poet Robert Burns [1759–96]; the courses consist of cock-a-leekie soup; haggis, neeps, and tatties; and cranachan). Other significant experiences included attending the ordination of a deacon at the Wellington Cathedral of St. Paul and, of course, the lunches, coffees, and morning teas with friends and colleagues. Even small moments are precious, like seeing from above a sea of clouds glow pink and gold in the rising sun after the plane on my return flight took off from Wellington Airport.
My experience at the NZTU has given me a renewed sense of the importance of the role that all citizens play in upholding liberal democracy, civil society, and the culture and values of one's country. Active engagement in the nation includes taking part in the affairs of the state and of the community. It requires us to adopt responsibility and to act as stewards, to care for the welfare of people, animals, the environment, and institutions. We all have a part to play in this, however great or small, and we all must find our roles. Furthermore, my experience helped me to remember the importance of stepping out into the unknown when we receive the call to adventure. Because we are faced with uncertainty when we do so, it takes courage, and when we succeed, we take heart and grow as individuals. But even if we fail, we are made more resilient—so long as we do not give up.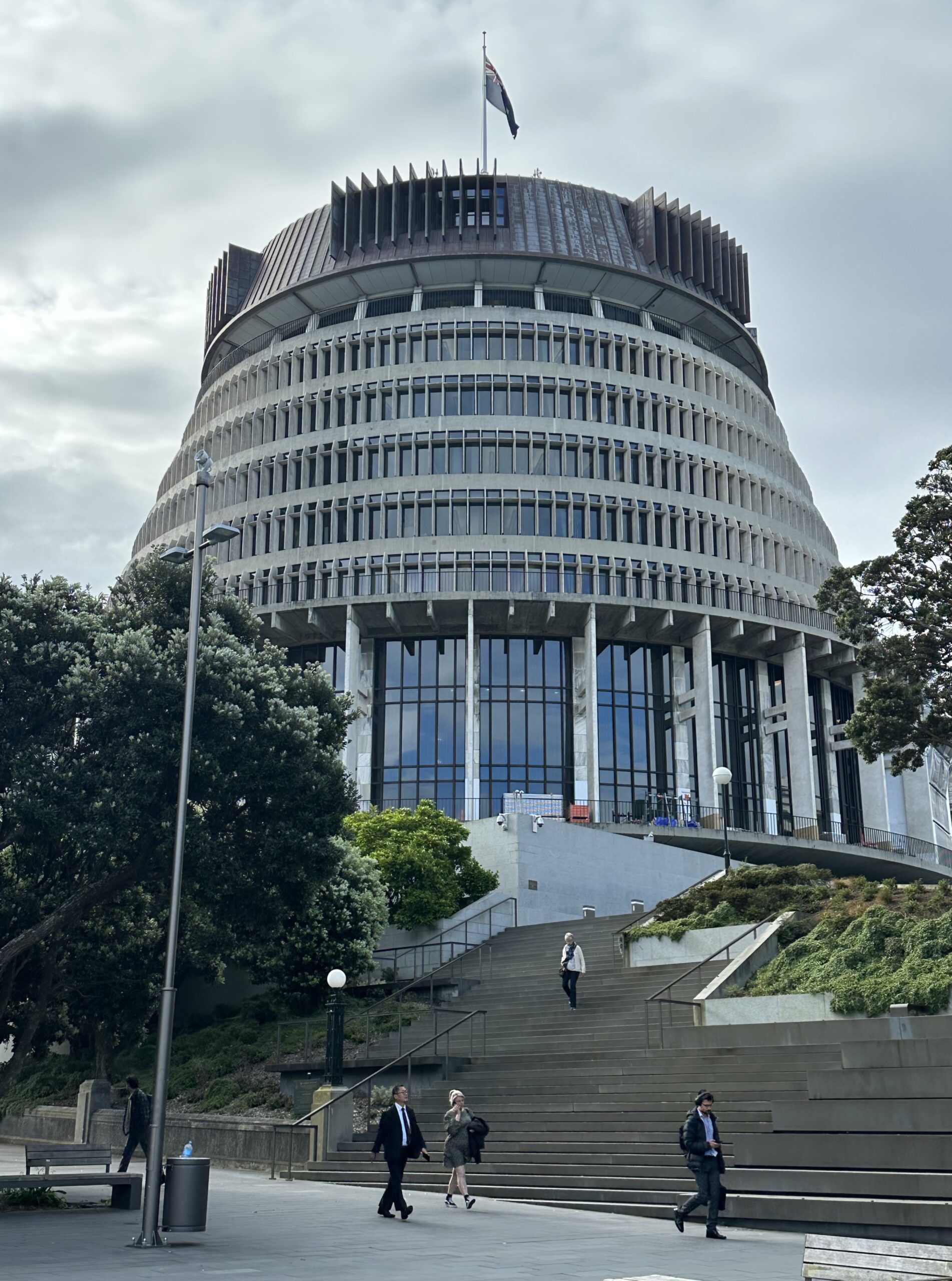 The Beehive, located near the NZTU office.
For anyone who is thinking about applying for the Mannkal Scholarship Program, I would highly encourage them to do so. The seminars sharpen your intellect and knowledge through dialogue and debate; the conferences grow your social and professional networks; and the coaching and internships develop your character and leadership skills, transforming you into a potent agent of civil society. Travelling and working overseas is especially effective for achieving all of the aforementioned. Not only that, but the journey cultivates your initiative, your independence, and your imagination, and in doing so, it prepares you for even greater things.
I would like to express my sincere gratitude and thanks to the Mannkal Economic Education Foundation for giving me and many others such generous and wonderful opportunities for leadership and character development.