Win-Win Negotiations: In Business and Personal Life
August 8 @ 1:00 pm

-

2:00 pm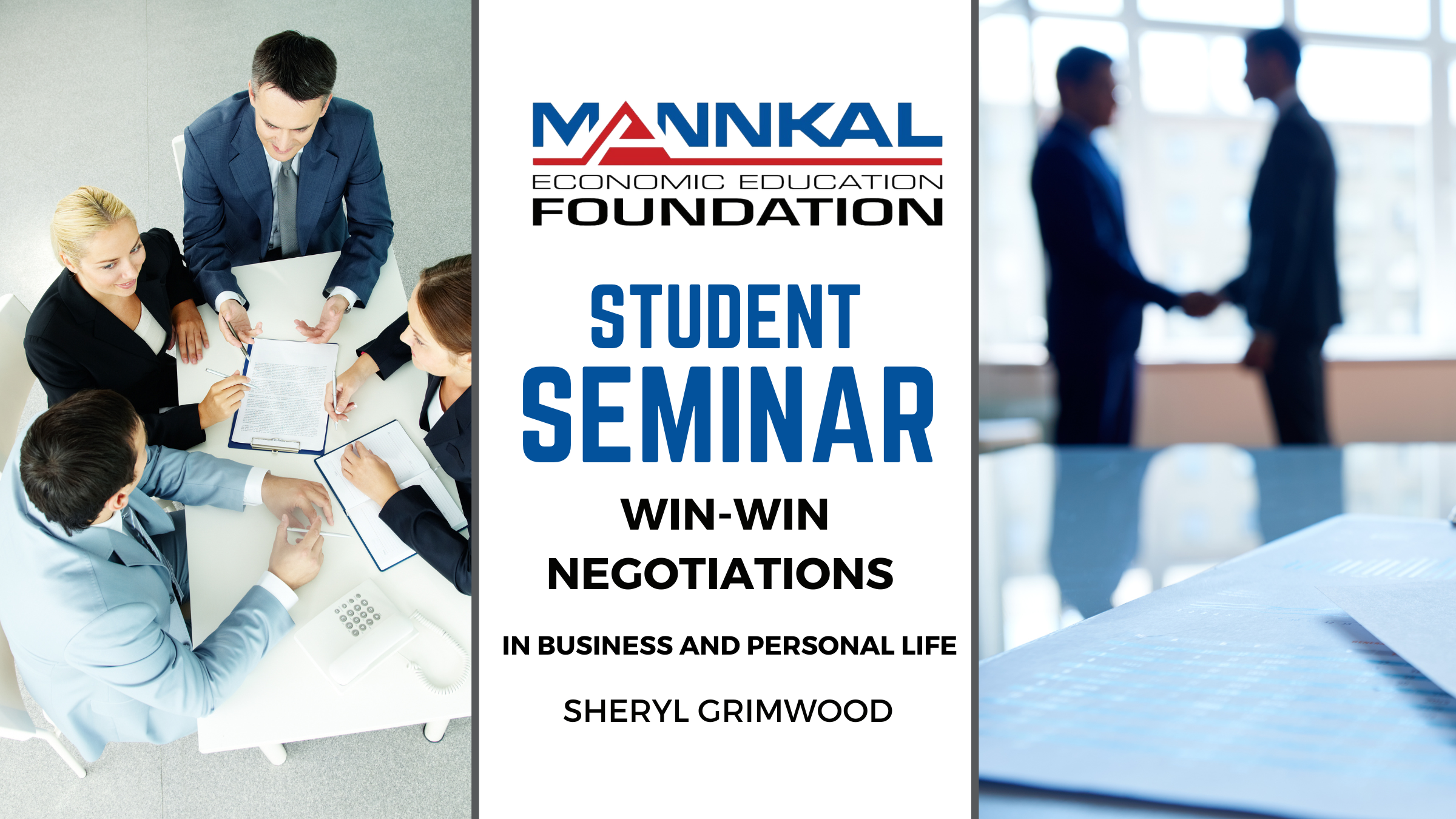 Mannkal ambassador Sheryl Grimwood has had a long and successful career. Upon graduating with a Bachelor's of Pharmacy, Sheryl has worked in a number of industries including pharmacies, the automotive industry, and not for profits, becoming the CEO of the Leukeamia foundation. In these roles, Sheryl has learnt that talent and work ethic only go so far and that the human element is key.
This presentation will focus on Win-Win negotiations in Business and Personal life. What is a Win-Win position. Is it achievable or a myth, or are there always winners and losers; compromise?
The organisational barriers to Win-Win negotiations will be considered; the size and power of the Business Entities entering into negotiations; the power brokers within the Businesses; champions, decision makers, and blockers; the appetite of the Businesses for the "deal", and the appetite of business representatives for achieving agreement; motivations and their risk profile.
Achieving a Win-Win negotiation is as much about understanding human nature as it has to do with the Business's fundamentals and finances. How does your personal development directly impact successful negotiations; what are the costs to you personally and how can you mitigate the risk you personally bring to the negotiations?
Specific examples will be drawn from actual negotiations between small privately owned Businesses, large ASX listed entities, and person to person negotiations, where there is a balance of power, and where there isn't.
This seminar is one not to miss. RSVP via Eventbrite by the 1st of August is essential.
Eventbrite: https://www.eventbrite.com.au/e/win-win-negotiations-in-business-and-personal-life-tickets-685423649587
—————————————————————————-
Address is Unit 3, 31 Hood Street, Subiaco
Free parking is available for 3 hours at Subiaco Coles