It is safe to say that matters concerning the law are not my specialty. As a finance and economics major, I am more accustomed to a high dose of pointy graphs and dollar signs – less common in legal texts and presentations. Despite this, however, I did manage to get a lot out of my time at the 33rd Samuel Griffith Society Conference in law.
Upon arriving in Melbourne, the host state for this year's conference proceedings, a quick tour of Parliament House was in order. Our guide talked us through the weird and interesting architectural choices, expensive keepsakes, and the antics of past politicians who once walked the halls. Rumours abound regarding the location of a practically worthless but expensive-looking mace, which went missing from the legislative assembly in 1891. My favourite theory is that this artifact was stolen by former Victorian Premier Thomas Bent, known for his drunken escapades and shady criminal activity. However, the whereabouts of this mace and the true details of its disappearance remain a mystery to this day.
The conference officially began later that evening over at the Park Hyatt Hotel. It was a pleasure to hear from former Deputy Prime Minister John Anderson, who gave a compelling dinner address. I was honoured to have been able to meet him with Ron and my fellow scholars later that evening. The genuine interest he showed in speaking with us and finding out what we thought about the challenges facing our country showed his great character and passion for understanding people. Our conversations may have been brief, but it left a lasting impression.
The following day kicked off with presentations centred around the upcoming referendum regarding the Voice to Parliament. I enjoyed hearing from both Associate Professor Scott Stephenson and Professor Nicholas Aroney who made compelling (albeit quite complex) legal arguments for both the "Yes" and "No" cases respectively. As someone who remains open to hearing from both sides of the debate, I appreciated how both speakers based their arguments on sound reasoning and converged on an important point – that regardless of the outcome of this referendum, we must remain committed to finding solutions to challenges that impact our fellow Australians.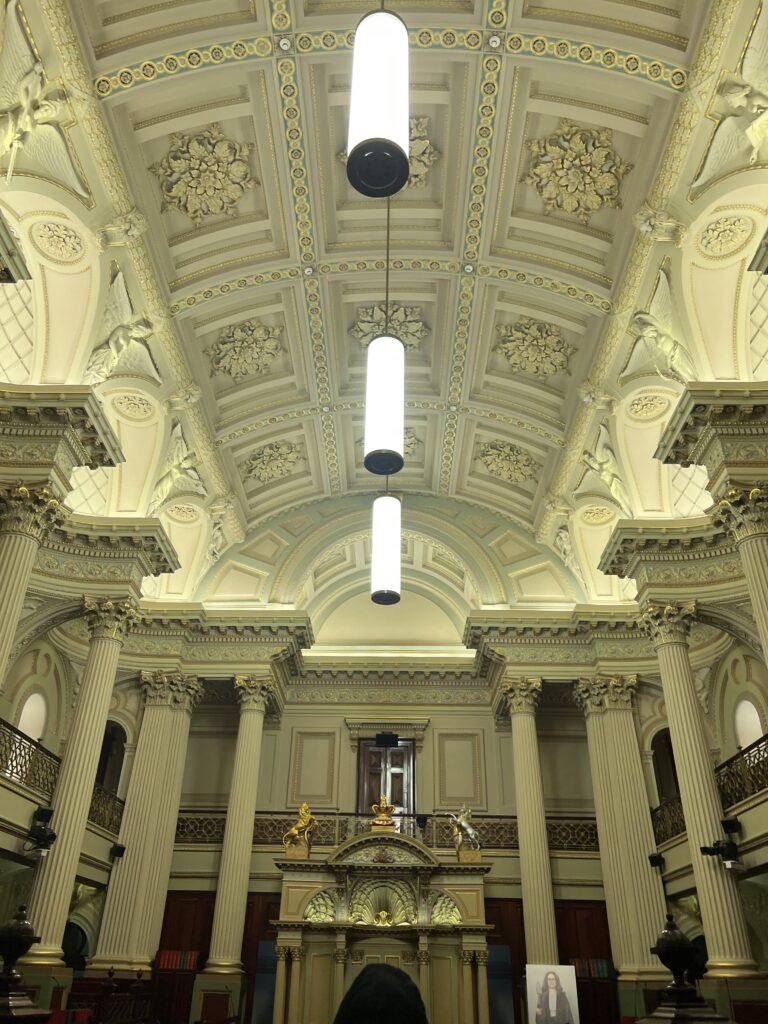 Victoria's Parliament House
I was very interested to hear from Father Tony Percy regarding the government seizure of Calvary Hospital. I had been following this shockingly brazen violation of property rights in the news for several months now and was wondering how it had passed under so many people's radars. Father Percy spoke about the implications of such a move and rightly suggested that if they can come for Calvary Hospital, they can certainly come for our other private institutions. Calvary Hospital could be the canary in the coal mine, the event that precedes further encroachments on our rights and establishes a precedent as to what future actions governments can get away with. It is important then that there are voices such as Father Percy speaking out against this overreach, and we should likewise be willing to take a stand for our rights before it becomes too late.
It was great to speak with and meet various other attendees throughout the weekend. From fellow students and scholars, lawyers, barristers, judges, politicians, and even some Mannkal alumni. I feel privileged to have met so many amazing people during my time at the Samuel Griffith Society conference where I learned so much through these conversations and presentations. I left Melbourne armed with a greater understanding of the Australian constitution and newfound knowledge which will assist me in confronting future legal questions that may require my vote and my voice as a citizen of this nation.
I would like to thank Mannkal for supporting my participation in this year's Samuel Griffith Society conference and I am grateful to all who help make these kinds of events and opportunities possible.