The tone for San Francisco was set when we cruised into week two in a self-driving Tesla. We flew into San Fran in the afternoon catching a glimpse of the beautiful city and terrain, which Fran described as "love at first sight". The rest of the trip did not disappoint. We started with an adventure into Silicon Valley with our host Tawab from the Silicon Valley Innovation Centre. We discussed 'unicorn' companies (yes, the magical creatures – the companies that achieve a valuation of 1 billion USD within a year of creation!), we watched a Tesla X boogie and played with cutting-edge tech toys. 
Only minutes in the Tesla's driver seat, Kade put the auto-pilot feature to good use and broke into the Macarena while driving down a main highway. We transcended out of San Mateo into virtual realities with the VR headsets. The one we most enjoyed was a flight simulator, where we glided along mountain tops like birds. However, this technology wasn't cut out for everyone; "I think I may throw up", Siena squirmed. Our hosts surprised us with a delicious lunch at Wahlburgers – a great burger joint in the Palo Alto area owned by Mark Wahlberg. A few other highlights for the day were a tour to the gorgeous Stanford University Campus, Google HQ and the Apple Park seen through the lens of augmented reality.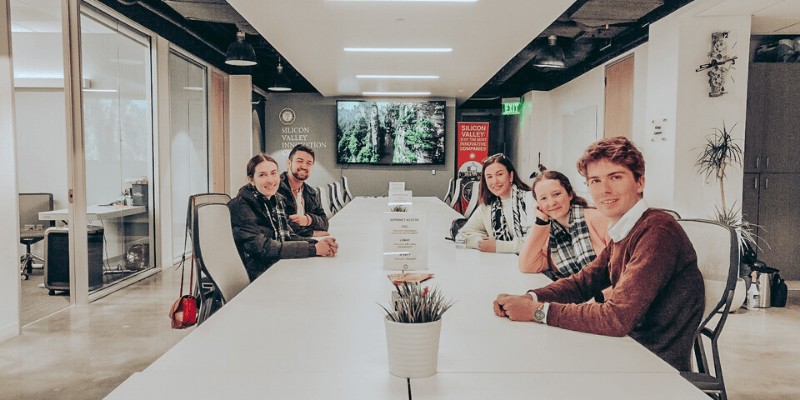 On Monday, we drove to David Friedman's house in San Jose for a full day discussion on anarcho-capitalism and private law systems. This experience was far from your usual university lecture; David Friedman, Economist and son of Milton Friedman's poured us all a glass of Sekahnjebin (A medieval Arabic iced tea!) and recited Kippling poems while we sat around his dining table.
We delved into the different aspects of anarcho-capitalist theory including the coercive nature and inefficiencies of government and the application of some of his well-known academic work. David responded to most of our questions with reference to ancient historical events with a knowledge base that was extremely humbling to us students. We concluded our day with some local wine, and Californian crab at Patrick Peterson's house. We were warmly welcomed by Patrick, Free Market Community Organiser at the Silicon Valley Freedom Project and by his friend Jack Estill, Lecturer and Economist and San Jose State University.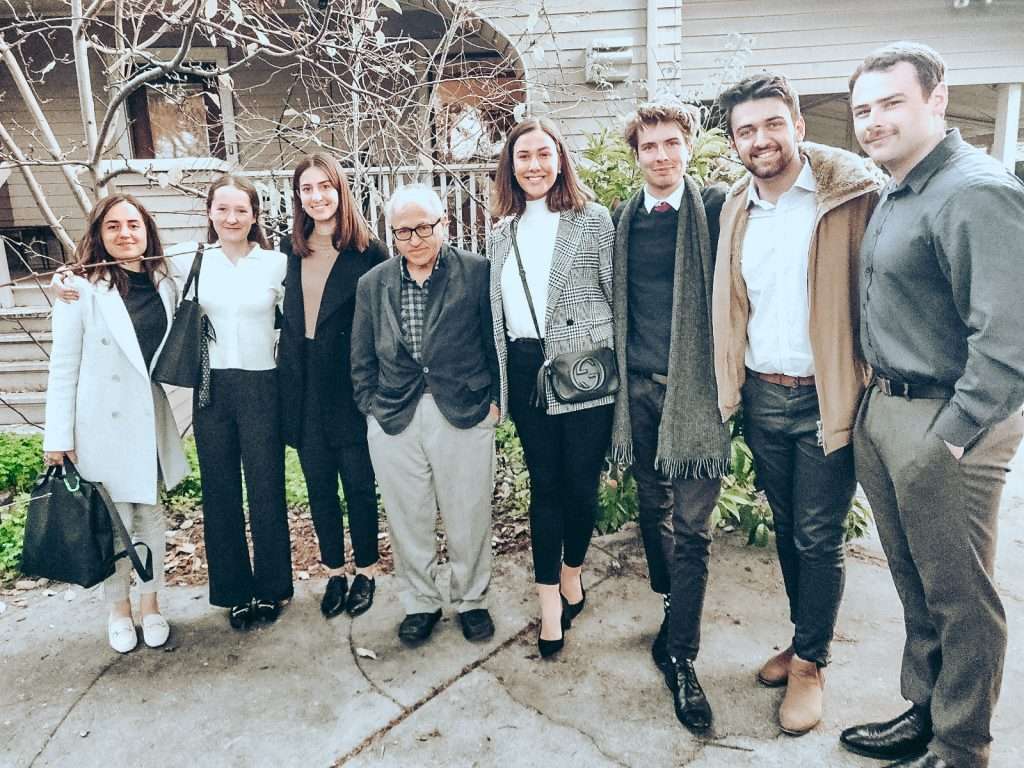 Tuesday was a busy day, starting with a luncheon in San Francisco hosted by the Pacific Research Institute. Over an abundant salad and delicious fruit tart, Lord Borwick, a Conservative in the House of Lords discussed the ramifications of Brexit with great British humour, "Can you tell the difference between New Zealand butter and American butter? I jolly well can't!". We were happy to hear that he believed England would create closer trade ties with both the USA and the Commonwealth post-Brexit.
We set off to Stanford for the Hoover Institution Speaker Series. That afternoon, we heard from General Jim Mattis, Josiah Ober and Kiron Skinner on what it means to be an American citizen, why civic values matter and how to instil civic responsibility back into the community. We all agreed that 'Mad Dog' Mattis' speech was the best, where he linked his 43 years of military experience to brotherhood, fraternity and civic selflessness. We indulged in some much-needed American BBQ with Andrew Pickford, Executive Director at Mannkal, alongside Chris Berg and his fellow academics from RMIT university.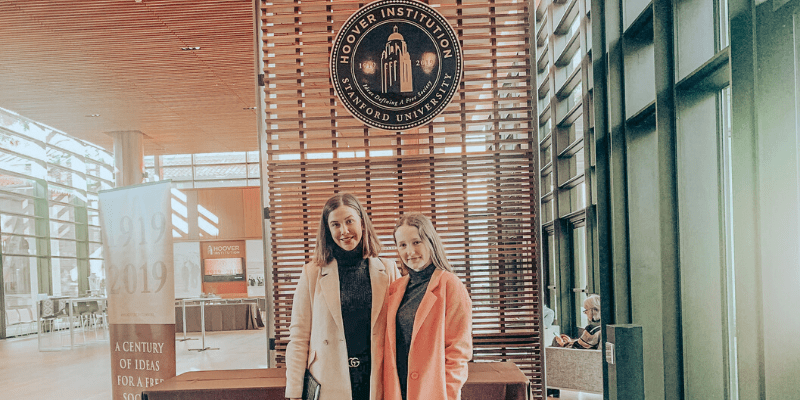 Wednesday was the highlight of the week, with an in-depth tour of Facebook HQ hosted by Brett Proctor, an engineer working on the Libra blockchain project at Facebook. We all felt like we had won the golden ticket, "I feel like I am at Willy Wonker's chocolate factory," Annie said. There was a vast range of free restaurants, snack bars, candy stores, ice-cream parlours, gyms, hairdressers, mechanics and even a gaming arcade! Brett quoted Sheryl Sandberg, COO of Facebook, "you don't ask 'what seat' when boarding a rocket ship", and I think we could all agree.
We wrapped up San Fran with a rainy day and project that was our most sombre; to explore the Silicon Valley and San Francisco to write a report on the homelessness crisis. The suburb of Tenderloin was heart-breaking, with 'tent cities' dotting the roads, homeless everywhere and storefronts decrepit and locked up. The experience was humbling, and we felt grateful for the comfortable and safe living standards in Perth.