We kicked off the week at the Lion Rock Institute, hosted by Michael Ko, Executive Director, and Anson Leung who gave us an overview of the current socio-political tensions in Hong Kong.
We were also treated to an interesting talk by a district councillor who detailed the tense relationship between the city and mainland China. He explained that Hong Kong is not a true democracy, with some seats of government selected by 'pro-China' elites. His good news was that China operates as an 'empire' in decline – they are acting aggressively only due to a poor domestic economy. The councillor was optimistic that China's expansion will only further unite pro-freedom groups throughout Hong Kong and the East Asia region.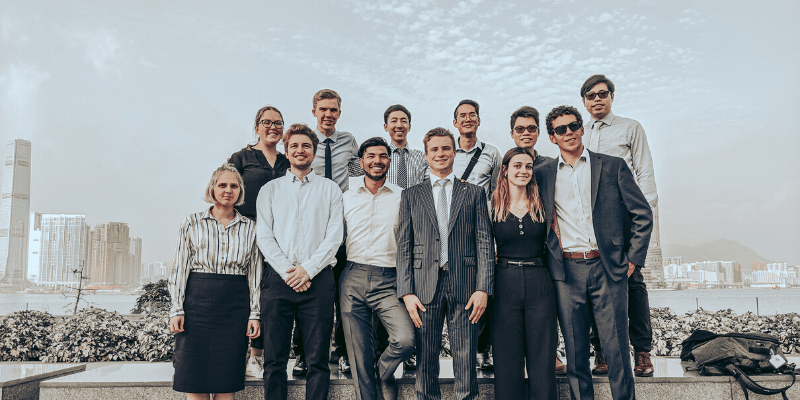 That afternoon, we caught the ferry across the scenic Victoria Harbour to get to Polytechnic University. 'PolyU' made world news recently for being the scene of violent clashes between police and pro-democracy protesters. On the way there, we walked along the foreshore where some of us were distracted by great photo opportunities – including the Bruce Lee monument!
At PolyU, we took photos of the damaged exterior, while Anson and Michael recounted key moments from the siege. As the area was still closed to the public, taking photos caught the ire of security patrolling the perimeter. Needless to say, we didn't hang around for too long.  
Aleks Gurak assumed the role of chief navigator for the journey home, guiding us to the 'China Ferry Terminal.' As we were about to purchase our return tickets, we quickly realised that we had ended up at the wrong terminal. This ferry would have taken us to Mainland China – a rather [un] democratic place. Whilst some were tempted to visit Hong Kong's not-so-friendly neighbour, a consensus was reached to return to the relative safety of our Hong Kong hotel!
The next day we visited the 55th floor of the Hong Kong Monetary Authority where we were given a guided tour. We learnt about the city's fascinating banking and monetary history. We saw a huge piece of artwork of Victoria Harbour made purely of 135, 811 coins! Our lunch took place as part of a curious element of Hong Kong conflict. At present, businesses publicly supporting the protests experience inflated patronage and pro-China establishments are boycotted. We were able to add the taste of freedom to our list of immersive activities.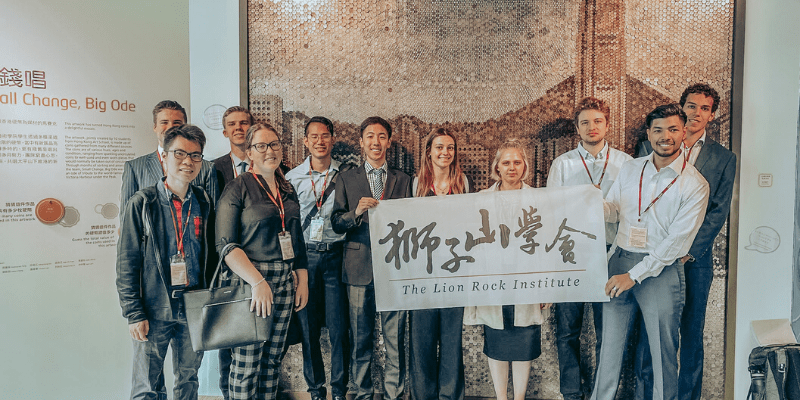 On Wednesday, we ventured to the Hinrich Foundation for a sandwich lunch and talk from CEO, Kathryn Dioth, and CIO, Bill Stacey (first ever Mannkal Scholar). Andrew Work, also a co-founder of the Lion Rock Institute, gave us a brief overview of the history of Hong Kong. Having grown up and worked in Australia, Bill and Kathryn provided interesting perspectives on global and Asia-specific trade, and the comparisons and contrasts between Australia's and Hong Kong's economic way of life. We heard about the transition of commercial production channels from Hong Kong to China, and how the latter country has risen to become an economic giant in its own right. Both Kathryn and Bill agreed that this transition is a product of foreign direct investment since the 1990s.
Kathryn's talk specifically touched on the work of the Hinrich Foundation as a research and promotional chamber for the values of ethical free trade in Asia. We were given a copy of the Sustainable Trade Index, an annual publication produced by the foundation which ranks Asian countries according to social, economic and environmental indicators. Such research provides an interesting insight into the importance of corporate social responsibility.
With a rich industry in the banking and finance industry, Bill spoke on the changing shape of the Asian economy from years past and present. It was incredibly interesting to hear about the issues facing many Hong Kong people with respect to housing affordability, and how domestic fiscal policy has had an unfavourable impact on the 'middle to upper-middle' class.
After being kindly provided with a keepsake coffee mug emblazoned with the Hinrich Foundation logo, we journeyed back to our hotel for a well-earned rest.
On Thursday, we returned to the Lion Rock Institute to present our 'picture project.' The visit was fortuitously timed, as the Institute's co-founder, Andrew Sheung, happened to be passing by and was keen to brief our team. Andrew provided us with an armoury of helpful information in regard to spreading libertarian ideas and trumping the emotionally driven perspectives of leftist individuals and organisations. Our final presentations were a success, with each student briefly talking on their expectations prior to visiting Hong Kong compared to their perspective after having journeyed to the city housing one of the freest economies in the world.
Next stop, London!